In 2020 we hope to run a paediatric burns reconstruction outreach in a country that has no reconstructive surgeons of its own. Making such a commitment is not just linked to finance nor even to the availability of suitably-skilled people; it is linked to stability. Africa will not run out of child burns survivors in need of help but it might run out of safe places in which to help them. Choosing where and how to run a mission requires the host country to be safe; your and our definition of "safe" might be quite different though. While our many friends and medical contacts in the Democratic Republic of Congo keep that country close to our hearts, the high level of Ebola in 2019 made it off limits because we're not an international aid arm of a government; we're not military surgeons (though we've used them); we're not specialists in tropical diseases.

Wherever we work, there has to be sufficient clean potable water, sufficient reasonably-clean food preparation and storage areas, sufficiently-clean operating theatres with effective oxygen supplies, semi-functioning sanitation and a reliable electricity supply. The number of African countries with reliable electricity is declining and there are often no viable backup systems if there was to be a power cut during a prolonged procedure. Additionally, much equipment that surgeons would prefer to use, requires electricity and a few First World surgeons seem to have lost the dexterity to use a Humby Knife when e.g. the Dermatome is broken, there are not enough blades, there's no equipment to sterlise it or it has no power. If equipment breaks, there have to not only be enough spares on site with which to repair it, but someone with that technical expertise because if flights only take place to a city twice a week and the whole mission is only one-week-long, then certain planned procedures simply cannot happen. And those procedures are planned and scheduled after the initial screening of hundreds of desperate people, who will never in their lives get a chance for an injury to be repaired, if you don't manage to keep faith with the promise that they understand you to have given. Beware broken promises in unfamiliar territory. Beware unrealistic expectations from patients. Beware something small like a blown light bulb on a microscope because you never thought they had no spare light bulbs in xyz land.

Then the host country has to be helpful. Grateful is not a given, but surely they'll be helpful with the bureaucracy and not make you run from Ministry to Ministry for a stamp, a seal, a signature? No, don't count on that either. You can give with a full heart, with an overflowing heart, and still some countries will think that there is spare cash for a bribe, a "service charge," or a tax that you've never heard of. The temptation to make a false Ministry of xyz stamp is significant when you realise it could save a full week of someone's time. But just imagine a patient dies on the operating table and the paperwork is not complete? So, one can take no chances.

The biggest danger is political instability. Within South Africa we know places not to go at month-end when incomes and tempers can briefly rise in tandem. In less-familiar countries we look at election dates and plan to keep well-away. Burns are certainly a political issue because it is the expenditure or not, of governments on health care and on other staffing and infrastructure, that determines whether burned children live or die. But in highly-unstable countries we'll never venture a political opinion of any kind, because we need to keep the team of volunteers safe. Similarly, regardless of the negative press that security companies get in different places, when we are in uncertain terrain, if we can link with an organisation that will pledge to keep personnel safe, then we accept that help without pomposity or judgement. The world has been diverted by shock, turmoil, greed and cruelty in the past five years and some of that anger has spilled over into there being even more burns injuries. We want to turn this negative tide. Help us to stop children from being needlessly disabled and disfigured.

Support our work please.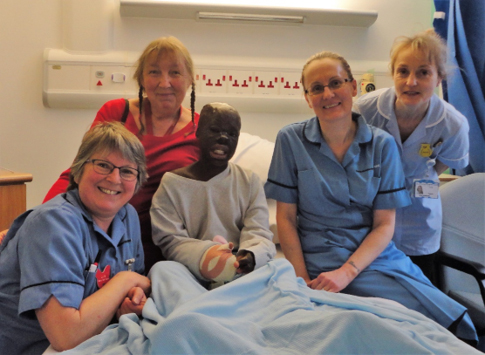 Perlucia with Bronwen Jones, her foster mother for seven continuous years and wonderful nurses at Queen Victoria Hospital, in East Grinstead, West Sussex, UK after complex hand and nose procedures in 2019 by surgeons Asit Khandwala, Baljit Dheansa, Ed Pickles and colleagues